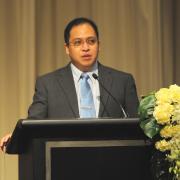 Chairman's Message
Dear Investors or Locators,
Myanmar, being a developing country in transition, is still faced with obstacles in many areas like many other countries in the region. The main obstacles to investors include, but not limited to, lack of adequate hard and soft infrastructures. The hard infrastructures can be built up in a short time if adequate level of funding is available; however, development of soft infrastructures in a short time is not easy as it requires the process of mindset change. The process of mindset change requires the process of evolution that takes time in many countries.
Thilawa Special Economic Zone is established to shift the paradigm, to materialize the "change", and to make the difference by portraying the Thilawa Special Economic Zone to be truly "special" for investors. It is not just a special economic zone. It is "Thilawa".
We are dedicated not only to creating a favorable investment environment but also to making sure that it is predictable and friendly. In order to do that we act not only as a regulator but also as a facilitator, coordinator and more importantly, as a friend. We make sure that our One Stop Service Center is truly a One Start One Stop Service Center. Online application services are being developed so that investors do not even need to come to the One Stop Service Center as every services would be just one click away.
Please come to Thilawa. You will truly feel the "difference" Yours Sincerely U Set Aung Chairman of the Thilawa SEZ Management Committee.
---